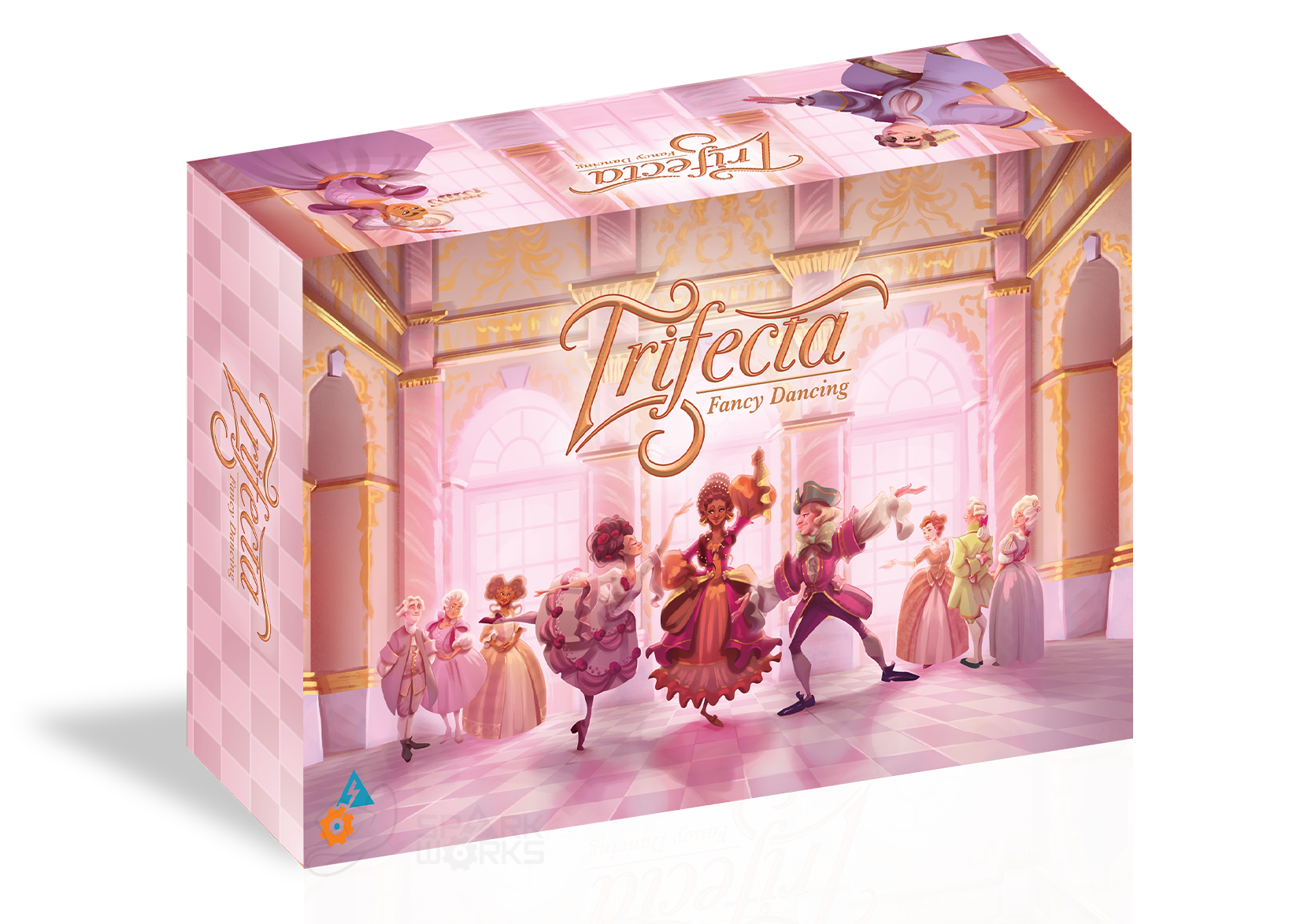 Tonight, all the finest dancers are attending the Halcyon Ball .
Elegance, class, and a little bit of…What are you doing? Eleanor, I will say it again, second position then pirouette.

Tonight, all the finest dancers are attending the Halcyon Ball to showcase their exquisite skills. You and your rival are both seeking to become the Royal Court Choreographer…Wait, is she doing that move again? Dearest Eleanor, I beg of you. We are here to win over the royal court, not act a fool… Yes, living the fantasy of being the Court Choreographer rests on tonight and your dazzling dancers.

If you want to just dance, Trifecta can be played solo. Maybe you want to dance with somebody, Trifecta also has cooperative and competitive gameplay.

Your dancing queens have donned their finest attire, prepared their finest dance moves, and are ready to have the time of their…Eleanor! This is our big moment. Prepare your dancers to promenade, twinkle, turn, and curtsy to win accolades and your dream job!

Description
Trifecta: Fancy Dancing is an easy-to-learn and quick-to-play card game where players seek to create a winning combination of dance moves.  Players have a limited number of moves to use so you have to use strategy to play the right card in the right position.  
-Simple but engaging card game with beautiful artwork
-Lavish outfits inspired by the Rococo Era
-A game for 1 to 2 players that can be played cooperatively or competitively!
Contents & Credits
Contents:
39 Cards, 3 Dance Floor Cards, 5 Accolade Tokens, 3 Time Tokens, 1 Rulebook
--
Credits:
Design: Zoran Dobrijevic
Original Game Development: Josh Neiman
Trifecta Fancy Dancing Development: Dan Yarrington
Rules Editor: Petra Schlunk
Editing and Proofing: Charlotte Jones, Tim Schuetz
Illustration: Jacqui Davis
Graphic Design: Madison Shrout, Jared Gannuscio
Production: Tim Schuetz
Producer: EJ Granbery
Executive Producer & Publisher: Dan Yarrington
Videos