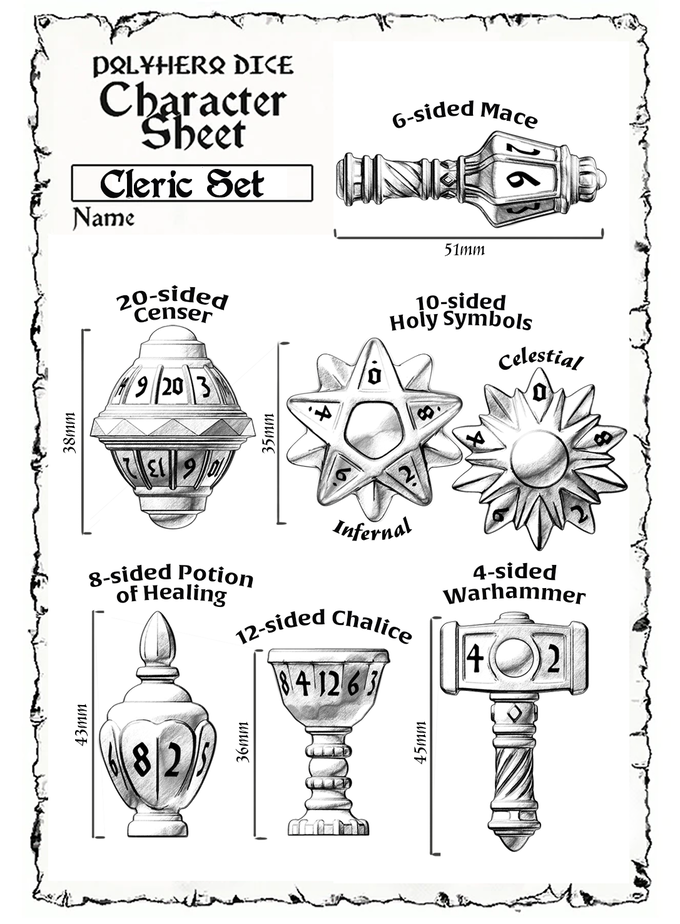 PolyHero Cleric
Channel the divine with dice for Clerics of all types. And bless your whole party with new sets for Warriors, Rogues, and Wizards!

The Cleric Set and remastered Warrior Set were developed over many months, during which we conceived and iterated on numerous concepts and samples. The final designs were settled on with the theme of the dice in mind, but importantly also with considerations of functionality and manufacture. After some frustration during the long production process of our previous sets, we invested the time and money in advance of this campaign to make the actual molds and some physical samples before the campaign. Now we can share pictures of the samples with you, and you can help us bring these designs to life through this campaign. This should shorten the production process so we can be more likely to achieve our estimated delivery date. We are so excited to share these dice with you!
The Cleric Collection
Description
Raise your chalice to the newest PolyHero Dice set! The Cleric Set! The Cleric Set is an evocative set of RPG dice for use with tabletop role-playing games. The PolyHero Cleric Dice Set contains 2 d20 Censers, 2 d10 Holy Symbols, 1 d8 Potion of Healing, 1 d12 Chalice, 1 d6 Mace, and 1 d4 Warhammer.